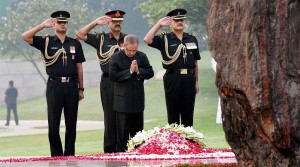 The 30th Death Anniversary of former Prime Minister Indira Gandhi is being observed today, Saturday, 31st October.
Former Prime Minister Mr. Manmohan Singh, Congress President Ms. Sonia Gandhi, Congress Vice President Mr. Rahul Gandhi, Indian Vice President Mr. Hamid Ansari, and other prominent leaders paid homage with flowers and wreaths at the Indira Gandhi Memorial.
Prime Minister Mr. Narendra Modi also paid his homage. He has mentioned about this in his Twitter Page.
It is worth recalling that the former Prime Minister Indira Gandhi was assassinated by her Security personnel on 31st October, 1984.
212 total views, 2 views today