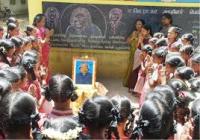 As a mark of respect for the departed former president Abdul Kalam, shops remained closed in Vellore District on Thursday, 30th July. The public organised a silent procession.
Tamil Nadu State government declared holiday on Thursday, 30thJuly as a mark of respect for Dr. Abdul Kalam. All government schools, colleges and offices and all private organisation were closed.
Traders also announced closure of their shop on this day. Hence, all shops also remained closed.
The shops located in Vellore Kripanandavariar Road, Burma Bazaar, Sarathi Palace, Main Bazaar, and Arcot Salai remained closed on Thursday, 30th July.
On behalf of Traders' Association, shops remained closed throughout the district.
Hops in Arkonam, Ranipettai, Sholingur, Wallaja, Aroct, Katpadi, Gudyatham, Pernampattu, Natrampalli, Ambur, Vaniyambadi, Thirupathur Dam, and Jolarpettai.
Thus the whole of busy area in Vellore remained empty without any activity.
On behalf of DMK, Vellore DMK Secretary Mr. Karthikeyan garlanded the portrait of Abdul Kalam and paid respects.
On behalf of Traders' Association, 2 minutes of silence were observed for Dr. Abdul Kalam in Vellore Kripanandavariar Road. Many trader association leaders paid respects by garlanding Abdul Kalam's photo.
A silent procession was organised from Gandhi Statue, Anna Salai, Vellore.  All school and college students participated. Students lit candles and paid respects. They carried the lit candles in the procession.
A decorated photograph/portrait of the departed leader Dr. Abdul Kalam was taken in a chariot in procession. The chariot was stopped at the platform set up in Fort Ring Road where an ever-burning lamp was lit.
The telecast of the final rites of Dr. Abdul Kalam at Rameswaram was arranged on a giant screen for the public.
Auto drivers organised a silent procession in Anna Salai, Vellore.
The respective political party offices, social service organisations, shops, the public in different localities, schools and colleges paid their last respects for the departed leaderand organised silent processions.
285 total views, 2 views today