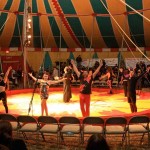 The Crown circus for which we all have awaited is back to our Vellore city now.
The opening ceremony will be held on 20 Dec 2013 at 7 pm in Sree Kiruba Trade Ground, Opp to Silambu Theatre, Vellore.
Vellore Mayor Mrs. Karthiyayini is participating in the opening event of the circus.
It includes the performers of the clowns, acrobats, trained animals, trapeze acts, musicians, hoopers, tightrope walkers,jugglers, unicyclists and other object manipulation and stunt-oriented artists
Show Timings:
1 pm
4 pm
7 pm
50 rupees tickets, 100 rupees tickets and 150 rupees tickets were available.
Advance booking is being done for 150 rupees tickets alone from 9 am to 5 pm.
1,037 total views, 1 views today