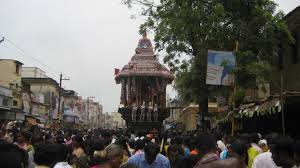 On the occasion of Chithirai festival, the divine chariot procession of Lord Karuppuleeswara along with His Consort Sivagamasundari of the Karuppulesswara temple was performed on Wednesday, 29thApril.
Thousands of devotees participated in the chariot procession.
The temple festival commenced with divine flag-hoisting ceremony on 23rd April. Religious programmes were organised every day.
The most important event of chariot procession was performed on Wednesday, 29th April.
Speial abhishekhams & aaradhanais were performed on the 'Panchamurthys' during early morning at 5.00 AM.
The main utsava deity was brought out to be seated on the decorated chariot and the procession started.
All local eminent senior officials and celebrities from various fields participated.
Annadhanam was performed at the Periyandavar Mandapam in the afternoon.
The chariot returned after the procession by 6.00 PM.
Fire-works display was conducted in the night.
Several eminent personalities including the temple administration organised this grand occasion.
296 total views, 1 views today