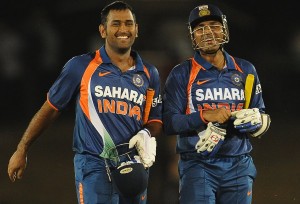 India's former dashing opening batsman, Virendra Sehwag, who recently announced his retirement, has emphasized that India's current ODI captain, Mahendra Singh Dhoni, should be retained as captain till the next World Cup (Cricket).
Sehwag expressed that Dhoni would help build a strong team for the next world cup if he continues as captain. He also mentioned that in case of Dhoni announcing his retirement, the Indian team would have an issue who would be the No. 5 & 6 batsmen in the Indian batting order.
Sehwag also informed that Dhoni was not responsible for his (Sehwag's) removal from India team. Dhoni is a man of golden heart and all the senior cricketers respected him. He also said that he had no problems with Dhoni and all rumours spread are only the media's play.
330 total views, 2 views today