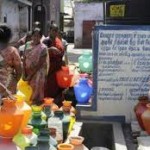 The residents of Vellore Corporation are facing an acute drinking water scarcity for the last more than two months, with the Corporation being in a position to supply drinking water through the distribution lines only once in 10 to 15 days in most areas.
A visit to different areas in Vellore revealed that the residents were using the water sparingly, since they have to manage with the stored water for 15 days. Some resort to drinking boiled borewell water though it was not potable. While the affluent sections of the people buy mineral water for drinking purposes, the poorer and middle class people are the sufferers. A resident of Kasba First Cross Street said that the residents in the street get water only once in 15 days. A resident of Janda Street in Kasba said she got Corporation water only once in 10 days in her house. Residents of M.C. Road in Kasba said that they got drinking water only once in 15 days through their house connections. The street borewell in M.C. Road is always surrounded by people fetching water, which they used both for drinking and general purposes in the absence of drinking water. The situation was equally worse in Kosapet in the heart of Vellore. A resident of Kandasamy Jamedar Street in Kosapet said that she got water only once in 15 days.
K.R. Selvaraj, Commissioner of Vellore Corporation told The Hindu that the water table in the headworks in Karugambuthur and Palar as well as in Ponnai have gone down precariously, as a result of which the Corporation was not able to fully meet the requirements of the people. Out of the requirement of Vellore, which is 240 lakh litres per day (LLD), all the headworks put together have a total installed capacity to supply only 135 LLD. But, the Corporation was able to supply only about 55 LLD now in view of the depletion of the groundwater table in the headworks at Palar and Ponnai rivers.
340 total views, 2 views today