The first test laboratory for finding solutions to power generation shortage problems has been set up in VIT (Vellore Insatiate of Technology) Don Bose Power Electronic Croporation & VIT have jointly set up 'Advanced Drives Lab' a laboratory for conducting research towards finding a solution for the electric power shortage and improve power generation techniques.
The lab is located at the technology towere and cost about Rs. 50 Lakhs.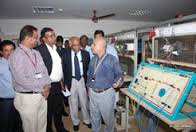 This is the 1st instance where the industry & educational institutes have joined hands to adopt latest technologies ti improve power generation.
Vice President, Mr. Selvam, inaugurated the lab yesterday (Thursday, 26th February).
Senior officials Don Bose & VIT participated.
253 total views, 2 views today