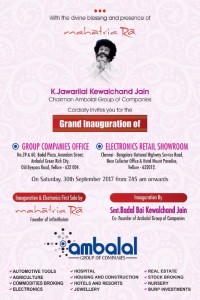 With the divine blessing & presence of Mahatria Ra, K. Jawarilai Kewalchand Jain, Chairman Ambalal group of companies invites for Grand inauguration of Ambalal group companies office & Electronics retail showroom on Sep 30.
Date & Time:  Saturday, Sep 30 from 7.45 am onwards.
Group companies office
Inaguration & Electronics first sale by Mahatria Ra, Founder of Infinitheism
Address:
No. 59 & 60, Badal Plaza,
Anandam street,
Ambalal Green Rich City,
Old Byepass road, Vellore – 632 004.
Electronics Retail Showroom
Inaguration by Smt. Badal Bai Kewalchand Jain, Co – Founder of Ambalal group of companies.
Address:
Chennai – Bangalore National Highway Service Road,
Near collector office & hotel mount paradise
Vellore – 632 012.
142 total views, 1 views today