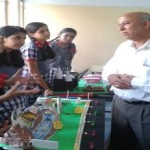 The Tamil Nadu School education minister K.C Veeramani will inaugurate the Jawaharlal Nehru Science and Mathematics Exhibition at Jaigopal Garodia National Higher Secondary School in Tambaram. This is a three day event which will commence from today.
There will be individual and group (of two) categories in science, for students of Classes 8, 9 and 10. Those from Classes 6, 7, 11 and 12 have to participate individually. The mathematics exhibition will have 32 participants and will focus on 'Mathematics of planet earth'. A model planetarium, a workshop on robotics and a display on Isro technology will be some of the special features.
The best 35 displays by students and 15 by teachers will be selected for the Southern India Science Fair to be held at the Visvesvaraya Industrial & Technological Museum in Bangalore. The top 15 participants from science and top three from mathematics will also get to participate in NCERT's national-level science exhibition.
406 total views, 1 views today