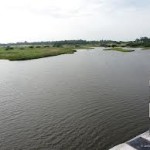 The early implementation of the Thenpennai-Palar link project has assumed significance in the light of the severe water scarcity that has gripped different parts of Vellore district.
In Vellore Corporation too, it has almost become a daily affair, with residents of one ward or the other blocking roads with empty pots demanding water supply.
As per the pre-feasibility report of the Pennaiyar-Palar link scheme prepared by the National Water Development Agency (NWDA), the Pennaiyar (Krishnagiri)-Palar Intra State Link envisages transfer of 99 cubic million of water, annually available at Krishnagiri dam as flood flow to the Kallar, a tributary of Palar River in the adjacent basin through 55.7 km-long canal by gravity during the months of October to December for 15 days at the rate of five days in each month.
The existing command area of about 11,870 hectares being irrigated through the existing wells and borewells. The project is estimated to cost Rs. 257.93 crore.
410 total views, 1 views today