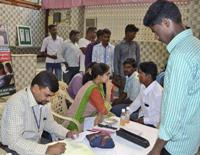 Tamil Nadu Chief Minister's comprehensive insurance program, Narayani Sripuram Vellore hospital, along with, city arimaa Union in the Melalathur, next to Gudiyatham Madrasa-ye-nisvan Nithiyudhavi Nadunilai School on Thursday, 300 people were treated in dermatology specialist medical camp.
School correspondent B.B.Pairos Ahmed headed this camp. Arimaa Association president Mr.M. Panchacharam welcomed. Amudha Sivapragasam inaugurated the camp.
Kamban founder J.K.N.Palani, secretary K.M. Bhoopathi, entrepreneur K.O.Imran, Melalathur Panchayat Vice President Chandra, Arimaa Durai. Narayanaswamy, A.Suresh Kumar, N.Venkateswaran and others were present.
247 total views, 1 views today