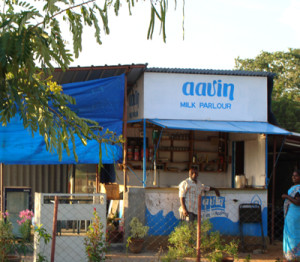 A meeting of the milk producers' cooperative societies from Vellore, Thiruvannamalai districts was conducted at Sathuvachari yesterday (Friday, 30th January).
Senior officials from Aavin presided over the meeting.
Agents & representatives from the local area participated.
Decisions appreciating the Chief Minister's decision to raise the prices of cow's milk by Rs. 5/- & buffalo's milk by Rs.4/- were recorded. A representation was made to increase the commission of agents By Rs. 1.20/- per litre.
Aavin General Manager informed that there are 823 Milk cooperative societies in Vellore, Thiruvannamalai district. Out of this, 111 societies are being run exclusively by women.
2.97 lakhs litres of milk is procured daily from these 2 districts. 1,32 lakh cows are being given free medical care.
49214 calves were born through artificial insemination.
3400 cows were successfully treated fro barrenness.
1,27,640 litres of milk is sent to Chennai every day.
A fund of Rs. 5 Crores has been allotted for procurement of milk-filling machine and refrigeration equipment.
Last year, a net profit of Rs. 2.07 Crores was earned.
Dairy products worth Rs. 5,11,89,000 was sold in Vellore district.
Dairy products worth Rs. 4,30,61000 was sold in Thiruvannamalai district.
276 total views, 2 views today