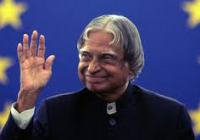 Ambur Shroff Bazar Jewellery shop owner Mr.Devan(50).
He created images in gold of various heads of players and leaders. The images of the World Cup, former chief minister M.G.R., Karunanidhi has created with gold. In this case, in order to pay tribute to the late former President Mr. A.P.J. Abdul Kalam was designed in the form of 900 mg of gold.
However, he said: – Kalam is an undisputed leader. In order to salute him, as a tribute to his shape by using 900 mg of gold within 2 days.
243 total views, 2 views today