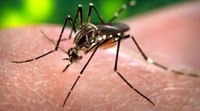 Vellore Corporation Welfare Officer Mr. Vasanth Diwakar informed that penalty will be imposed and collected from the owners/occupants of the residences with high possibilies of mosquito breeding.
Dengue fever is spreading throughout Tamil Nadu state.
In order to prevent this, a concentrated decoction – 'Kashayam' in Tamil) – is being given in all government hospitals and primary health centres.
House-to-house campaign has been taken up to emphasise to keep houses clean and prevent stagnant water which is a breeding place for mosquitoes by the city, village administrations throughout the state of Tamil Nadu.
These activities have been taken up in Vellore District as well.
180 field staff has been employed by the 60 wards in Vellore Corporation to complete the tasks preventing Dengue fever.
Corporation Health Department Official Mr. Vasanth Diwakar explained:
Field staffs of 180 persons have been deployed in the activities to prevent spreading of dengue fever. They will be wearing Identity Badges and will make house-to-house calls and inspect.
They will remove unwanted things and items which help mosquito breeding from the house.  They will distribute leaflets regarding how mosquitoes develop and how to remove them. They will spray insecticides in the bathrooms/toilets.
When these staffs make a second visit and find the possibilities of mosquito breeding avenues, the owner/occupant of the house will be imposed with a penalty  from Rs. 50/- to Rs. 500/-. So far, a collection over Rs. 40000/- has been made as penalties.
Public have to ensure that their residence are kept clean in order to prevent dengue fever. Unclean residences will continue to get penalties imposed!
269 total views, 2 views today