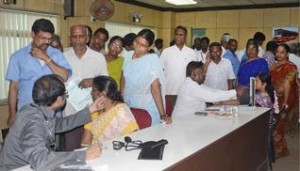 The general health department conducted a special health camp in the village of Thenkadappanthangal near Wallaja on yesterday, 29th December.
Deputy Director, Ms. Poonkodi presided. Circle Health Supervisor, Mr. Rajasekhar, welcomed the gathering.
Tests such as ECG, Scan, Blood, urine, eye, and infections were conducted on 1230 persons.
Recommendations for operations to be performed on 24 patients were made under the Chief Minister's Insurance Scheme.
The beneficiaries of Dr. Muthulakshmi child bitrh system were issued cheques.
Eminent local and political persons participated.
321 total views, 1 views today