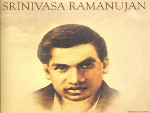 The District Science Centre, Vellore, is conducting math talent test as part of Srinivasa Ramanujam's birth anniversary celebrations on January 7, 2018.
According to a press release, students of classes V to VIII can take part in the talent test that will be held from 11 a.m. to 12.30 p.m. It will be conducted on basic mathematics pattern recognition.
Registration will be made on first come, first served basis, and the last date for registration is December 30. A total of 104 prizes will be given for all the four classes.
For further details, contact phone number – 0416 – 2253297.
118 total views, 2 views today