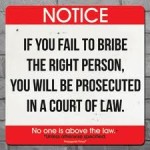 Vellore District Collector's office to purchase food security nominating officer Dr sampath kumar bribe, kaniyambadi. Anbazhagan the Regional Food Security Officer 2 people were arrested.
2 men led police to police vigilance superintendent balasubramanian red-handed caught and arrested. After conducting their investigation Pension Scheme in Vellore court, jailed.
Including food safety officer appointed District Collector's office bribe the reason that 2 people were arrested.
1,138 total views, 1 views today