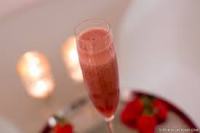 Ingredients:
Raspberries – handy
Blueberries (Blueberries) – handy
Spinach – a half packs
Cucumber – half
Lemon – 1
Chia seed – 1 tsp
Water – 1 cup
Method:
• Please wash all fruits and vegetables well.
• Please cut the cucumber with skin.
• Cut the spinach.
• Chia seeds soak for 6 hours.
• Please take the lemon juice from the lemon.
• In a mixer, add blueberries, raspberries, spinach, cucumber, lemon juice, add water and grind well.
• Add chia seed in juice in glass cups, use some ice cubes then drink.
174 total views, 1 views today