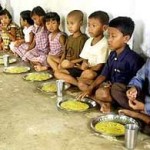 Tamilnadu Chief Minister has always a soft heart for school children. She has taken various steps for their improvement. She has provided laptops, cycles etc. She has also been concentrating on nutritious midday meal.
 School students in Tamil Nadu are in for a bonanza. Choices of delicacies await them in schools as part of the nutritious midday meal scheme of the State Government. If the menu of the nutritious midday meal scheme announced by Chief Minister J Jayalalithaa is any indication, students may think not twice but many times over before bunking school on flimsy grounds.According to the details of midday meals to be served in State-run schools announced by Jayalalithaa, students would get 13 varieties of rice and four different types of egg masalas. The menu was decided by the 'mother' in the Chief Minister herself based on recommendations and suggestions made by a team of nutrition experts and eminent chefs. Jayalalithaa had asked them to come out with food varieties that would break the monotony in the students.
Vegetable biryani, channa pilaf, tomato rice, curry leaf rice, sambar rice, mixed vegetable rice, tamarind rice and lemon rice are some of the items to be served on alternate days. The Chief Minister has zeroed in on four types of exotic egg masalas to be served with the rice varieties. "The food menu for the midday meal scheme remained monotonous for a long time. Our objective was to introduce dishes which would be liked by the children," the Chief Minister told the State Assembly while announcing the revamped midday meal scheme.
Tamil Nadu was the first State in the country to launch the midday meal scheme for school students.Children admitted to anganwadis too would be provided with different meal varieties. They will be served meals on all days while the school midday meal scheme is restricted to six days of the week.
1,938 total views, 1 views today