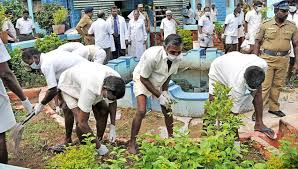 For the first ever time in Tamil Nadu, a new task of getting the prisoners to clean Vellore government hospital was initiated under the 'Cean India'  plan.
There are over 100 prisoners kept in the Central Jail at Thorappadi near Vellore. Just to keep the prisoners in better mental attitude and health, thsy have been used for agricultural activities like growing groundnuts, rice, root vegetable, greens and also making leather belts & shoes.
Shops run by prisoners are organised outside the prison covering food restaurants, tea shops, vegetable shops, hair-dressing salons, and ironing stalls.As the prices are reasonably cheap, the items get sold quickly for a fair profit.
Under the 'Clean India' plan, the task of cleaning the govern,ent hospital at Arukkamparai, Vellore by the prisoners has been taken up by the president of the Prison department, Mr. J K Tripathi and Vellore DIG Mohammad Hanifa. The task commenced 2 days ago.
Jail Superintendant, Mr. Karuppannan, inaugurated. Out of the life-time convicts, 41 convicts with good conduct certificates were taken in a separate vehicle to Vellore Adukkamparai government general hospital.
 The jail officer and 7 security personnel were also present. The prisoners commenced the woirk quite eagerly & earnestly.
2nd day's work began today (Friday, 28th February).
This happens to be the first ever time such a different concept has been used. This will pave the way for change in the mental attitude of the prisoners.
The cleaning services may be extended to bus stations, schools, and public places.
Senior officials from the jail department & the government hospital took part.
302 total views, 2 views today