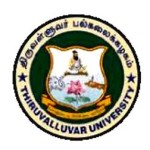 The Vice Chancellor of Thiruvalluvar University Dr. P. Gunasekaran has said that 97 temporary non teaching staff will be hired following an agitation of the non teaching staff under the Thiruvalluvar University Employees Union.
 The university had been working with minimum number of permanent non-teaching staff and a large number of temporary staff were put on work during various periods on consolidated salary. I have brought up the matter in the finance committee meetings.A detailed proposal was prepared about the non-teaching employees required at various levels of the administration.
The draft proposal was pending before the finance committee and he hoped it would be finalised by the committee soon. Subsequently, the proposal would have to be approved by the syndicate of the university. Once this is done, the process of recruitment of the non-teaching staff would begin', he said.
827 total views, 1 views today