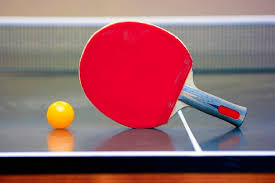 Vellore district-level table-tennis competitions were held at Mother Theresa Academy in Arkonam Townhall.
More than 80 students (boys & grills) from areas like Vellore, Katpadi, Gudiyatham, and Arkonam participated.
The students from Arkonam won in all the categories and created a record.
Winners;
Mini-cadet group – Vishal Raj; Kaviyasri
Cadet group – Vijayshankar, Sarmitha
Sub-junior group – Karthikraj' S R Angnes
Junior group – Sethuraman; Jamunaglory
Senior group – Karthikraj; S R Angnes
District Table Tennis Association President Dr S Panneerselvam gave away the prizes to the winners.
 Dr. Yamuna was the Speical guest.
The winners in this competition will participate in the inter-district tournament on 13th & 14th June to be conducted in Dinidigul.
Ms Sarmitha was given the 'Young Achiever award'. She is No.1 in the state-level and No. 5 in the National level.
Several eminent persons including city councillors participated.
At the end, Table tennis association secretary, Mr. Janrthanan, proposed vote of thanks.
278 total views, 1 views today