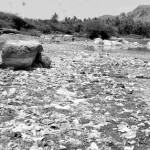 The Palavansathu lake, a water source that has been catering to the needs of residents of the area for the last 70 years. People of the area, who used to depend on the lake for drinking water, stopped using the water as it had become contaminated.
Residents of the Palavansanthukuppam area, in ward 42, blamed those living on a street for the contamination of the water body.The people have a callous attitude and throw plastic wastes into the water body. The lake receives water from the Otteri and Gundusoor hills and it flows through Virupatchipuram and Avvai Nagar. Drainage lines from Virupatchipuram and Avvai Nagar are connected to the water channel that enters the lake and the sewage gets mixed with the water. This is creating a lot of health issues to the people as they use this water to bath and wash clothes.
When contacted, Anaicut MLA M Kalaiarasu said he had inspected the lake twice. "During the visits, officials of the civic body also accompanied me and they assured that they would address the problem" .
Source : newindianexpress.com
441 total views, 2 views today