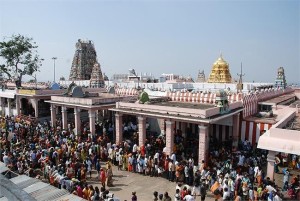 Lord Muruga is known and revered as the God of the Tamil people. There are 6 famous temples in Tamil Nadu dedicated to Lord Muruga based on the several events.
Palani is one of the 6 sacred temples of Lord Muruga. Thousands of devotees visit Palani Temple every day and have Darshan of Lord Muruga. The temple is always crowded.
Men visiting the temple are barred from wearing lungis & Bermudas. Men can wear shirt, pant/dhothi or pajamas.
As per the latest order given by the High Court, certain rules and regulations on dresses have been introduced in all temples under the jurisdiction of The Hindu ReligiousEndowment Board.
The above dress regulation will be effective in some temples including Palani, Thiruaavinankudi, Periyanayaki Amman Koil, Ilakki Narayana Perumal Koil, etc from 1st January, 2016.
The tem[ples' administrations have put up banners about this in various locations. As per this, women are barred from wearing jeans, midi, and leggings. But they can wear saris, chudidhars, and half-saris.
237 total views, 2 views today